If you've never worked with a dietitian or nutrition coach before – or even if you have – it can be hard to know what to expect during a nutrition coaching session. Especially when you consider working with a dietitian who does more nutrition therapy work and who works from a weight-inclusive lens, as it can be a very different experience than your "traditional" nutrition coach. Read on for some more information about what to expect while working with a nutrition coach or dietitian.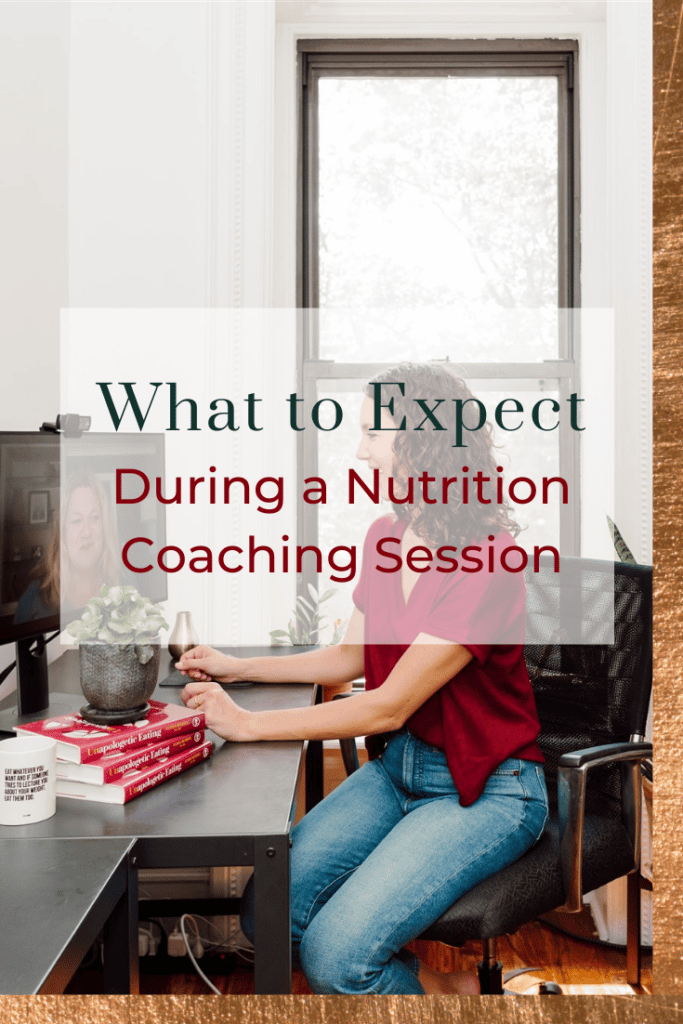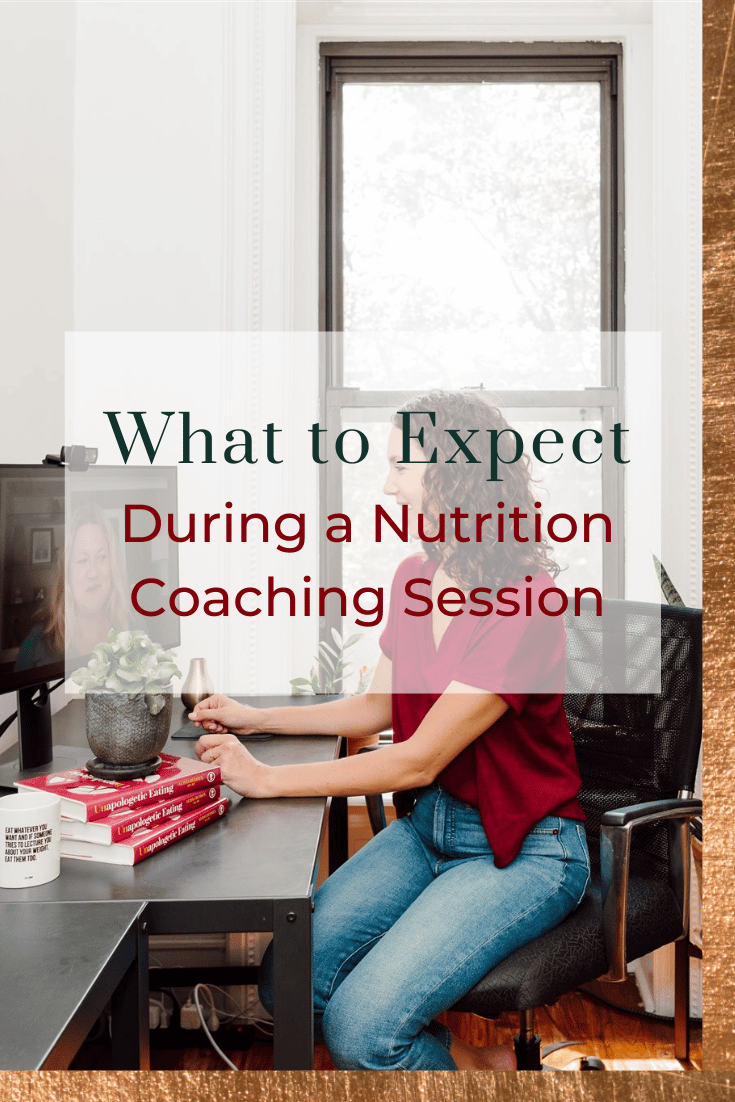 Moving away from dieting and diet culture is not easy. Our culture constantly spreads messages that we need to "fix" ourselves in order to be deemed "healthy" or worthy. For many of my clients, they've spent years of their life, and often a lot of money, trying to "fix" their eating behaviors and their body. They end up spending so much time thinking about and worrying about what they're eating and how they look.
But here's the secret: the problem isn't you or your body, it's diet culture (aka anti-fat bias or fatphobia).
It can be hard to sort through all of the nutrition information or intuitive eating info out there and know which will be applicable to and/or helpful for you. This is where working with a dietitian and nutrition coach comes in!
My team and I specialize in helping people heal their relationship with food and their bodies so that they can live a more authentic, unapologetic, liberated life. We begin this process by starting to form a supportive relationship with you during the initial session.
Read on to learn more about how to choose a nutrition coach, questions to ask, and what to expect before and during your first nutrition coaching session.
How to Choose a Nutrition Coach
Finding the right person to work with is important. Moving away from diet culture can be emotional and bring up challenges. It can be difficult, emotional, and hard to be vulnerable and talk about yourself – especially when it comes to your relationship to food and with your body.
What can make a big difference as you heal your relationship with food and body image is having the right support for you.
There are a number of things you may want to consider when looking for a nutrition coach:
Experience/background: What kind of training does the nutrition coach have? Can they support you through the issue you're dealing with? Do they work with clients who have similar struggles as you? What are their values? What is their lived experience (often just as important as their professional experience in my opinion!)?
Coaching style: How do they work with their clients? Is it a top-down approach or a client-centered approach? What is their coaching style like?
The process: How does their coaching process work? Is it a package or pay-per-session? Are sessions in-person or all virtual or both? What support do they provide outside of sessions?
Cost: How much do sessions cost? Do they accept your insurance? Can they provide a Superbill?
My team works hard to create a non-judgmental and supportive space for our clients so they can learn more about themselves and their beliefs about food and their bodies.
We use a client-centered approach which is a collaborative approach – you know your life better than we do. We are here to support you and hold space for you. We may offer suggestions of things to try and will ask you if this is actually feasible for you or not.
One great way to see if the provider is a good fit for you is by scheduling a free discovery call if they offer this option. This is a great chance to get to chat with the dietitian or nutrition coach. I love chatting with folks on discovery calls, as it is a great way for me to get to know them and for them to get to know me and my team; it's also a chance for you to ask questions about our process or coaching style.
Before the Initial Nutrition Coaching Session
Once you decide to book an appointment with a nutrition coach, there are generally a few forms to complete prior to your first appointment.
For example, if you're working with me or my team, we would ask you to fill out several forms:
New Client Questionnaire: This is an opportunity to tell us a little bit more about yourself and your goals before we meet.
Registration Form: This is where you provide some personal details and let us know how you would like us to communicate with you.
Intuitive Eating Journal: This journal asks you to spend a couple of days reflecting on your food and eating experiences. There are several open-ended questions to help you explore things such as what you notice before, during and after a meal, your hunger/fullness signals, and more.
HIPAA Privacy Notice: This document describes how your protected health information may be used and disclosed in addition to how you can get access to this information.
Another form that you may receive is a Release of Information, which would allow us to communicate with other members of your medical care team (i.e. primary care provider or therapist). This can be helpful so that we can communicate the intuitive eating and Health at Every Size approach we are using in our sessions to your other providers so that we're all on the same page when it comes to your care.
Another feature that we provide as part of our nutrition coaching package is a Welcome Package, which includes three of our favorite books mailed directly to you! These are helpful resources to have as you work with us since they are packed with evidence-based information on intuitive eating, weight inclusive care, the Health at Every Size approach, and more, alongside helpful reflection prompts and worksheets. Depending on what we're working on in our sessions, I will recommend specific chapters or worksheets that you can do and have to support you in between sessions.
During The First Nutrition Coaching Session
The first session is where you and your dietitian and nutrition coach get to know each other and where you start to uncover your relationship with food and your body. This is often a deep-dive session, where we ask you a variety of questions to help better understand your past and current experience around food, your body, and movement. We also will discuss your "why" – i.e. why you want to move away from dieting. Plus we'll talk about your goals so that we can support you with those during our work together.
Some questions that your nutrition coach may ask include:
What is your purpose for doing this work? Why is it important to you?
Your medical history – including physical and mental health.
What was food like when you were growing up? How did your family talk about food and bodies?
What is your history with food like? Have you ever dieted or experienced disordered eating or eating disorder symptoms?
What food like in your home now?
Do you have any foods that are binge or trigger foods?
Do eat differently alone versus with other people?
We also ask questions about your sleep, stress, coping tools, movement, and more – to get a full picture.
Together we will come up with an individual plan on how to move forward, identifying the areas that you would like to focus on during our work together. After the first session, I like to meet either weekly or every other week.
Follow-up Nutrition Coaching Sessions
Follow-up nutrition coaching sessions are a time to reflect on what's happening between sessions and what comes up for you as you gain more awareness and understanding of your thoughts, feelings, and beliefs about food and your body. During these sessions, we will talk about various strategies to help move you toward your goals while identifying and working through any barriers that come up.
At the end of each session, together we'll come up with a plan of what you'll work on for the coming weeks. This helps us break the process down into smaller, more manageable pieces. We also will provide you with any other supportive materials that we think may help, like podcast episodes, blogs, worksheets, and more.
How Long Should You Expect to Work with a Nutrition Coach?
The length of time you'll work with a dietitian or nutrition coach will depend on your goals, where your relationship with food and your body currently stands, and the support systems you have in place.
The work of moving away from dieting, reconnecting with your body, building awareness around your behaviors, thoughts, feelings, and then shifting your behaviors: this is deep, longer-term, therapeutic work that takes time and introspection.